Workshops and Conferences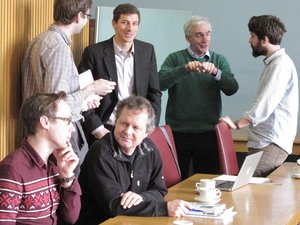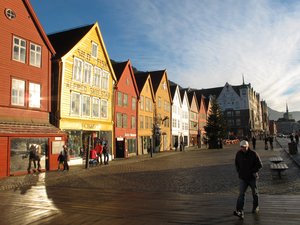 2017
IMFUFA Seminar, Roskilde University, Matthias Heymann, 1 Nov. 2017.
Workshop "Algorithmische Wissenskulturen: Der Einfluss des Computers auf die Wissenschaftsentwicklung", Deutsches Museum / University of Munich, invited talk by Matthias Heymann, 14-16 October 2017.
Centre for Environmental Humanities, Aarhus University, Lunch Seminar, Matthias Heymann, 29 September 2017.
8th Tensions of Europe Conference, Athens, Greece, Matthias Heymann, 7-10 September 2017.
Workshop "Towards a History of Paleoclimatology: Changing roles and shifting scales in climate sciences", University of Hamburg, organized by Dania Achermann and Simone Rödder, 6-7 Sept. 2017.
Conference "Nature as a Challenge of Life", Buenos Aires, Argentina, invited lecture by Matthias Heymann, 4-8 September 2017.
4th International Conference on Earth System Modeling (4ICESM), Cross-cutting panel on the history, philosophy and sociology of Earth system science, organized and invited lectures by Matthias Heymann and Simone Rödder, 28 Aug.-1 Sept.
Conference "Weak Knowledge: Forms, Functions, and Dynamics", University of Frankfurt, invited lecture by Matthias Heymann, 2-4 July 2017.
Ninth Biannual Conference of the European Society for Environmental History, Zagreb Croatia, Matthias Heymann, 28 June – 2 July.
Colloquium Niels Bohr Archive, Matthias Heymann, 7 June 2017.
Workshop "Technology, natural resources and crises in the past and present of Europe and beyond", organizer and contribution by Matthias Heymann, 8-9 May 2017.
Conference "Traveling Codes - Circulation and Adaptation of Models, Data, and Standards in Computer-Based Environmental Science", Keynote Lecture by Matthias Heymann
MECS, Leuphana Universität Lüneburg, Germany, 30-31 March 2017.
Centre for Environmental Humanities Inaugural Workshop
Moesgaard, Aarhus University, Denmark, Dania Achermann, 27 Feb. 2017.
CSS Colloquium, Centre for Science Studies, Aarhus University, Dania Achermann, 22 Feb. 2017.
2016
Conference "Environment, Society, and the Making of the Modern World: The history and legacy of the UN Conference on the Human environment held in Stockholm, June 1972"
KTH Stockholm, Sweden, 14-16 Dec. 2016
IZWT Colloquium Theory of Science and History of Science
University of Wuppertal, Interdisciplinary Centre for Science and Technology Studies (IZWT), Germany, 9 Nov. 2016
51. Deutscher Historikertag, Panel: "Zukunftswissen und Zukunftsglaube: Zur Geschichte der Prognostik und Zukunftsexpertise seit den 1960er Jahren"
University of Hamburg, Germany, 20-23 Sept. 2016
DGGMNT (Deutsche Gesellschaft für Geschichte der Medizin, Naturwissenschaft und Technik) Annual Meeting "Digitalisierung, Big Data und die Aufgabe der Theorie", Panel: "Modellieren, Simulieren, Muster finden: Historische, anthropologische und philosophische Reflexionen"
University of Lübeck, Germany, 16-18 Sept. 2016
ESOF 2016 (EuroScience Open Forum), Panel: "The Legacy of the 1960s 'Environmental Revolution'"
Manchester, UK, 23-27 July 2016
SHOT (Society for the History of Technology) Annual Meeting 2016, Panel: "Re-inventing the Human Scale: Science, Technology and Global Climate Change"
Singapore, 22-26 June 2016
Int. Conference "Anthropology, Weather and Climate Change"
British Museum, London, UK, 27-29 May 2016
IASC Regional European Conference "Commons in a 'Glocal' World: Global Connections and Local Responses"
University of Bern, Switzerland, 10-13 May 2016
Workshop "Modernizing climate in the environmental, atmospheric and geo-sciences: Nordic contributions and the international context"
KTH Stockholm, Sweden, 14-15 March 2016
Workshop "Experiencing the Global Environment"
Max Planck Institute for the History of Science, Berlin, 4-6 Feb. 2016
Workshop "Climate Change and Uncertainty from Above and Below"
New Delhi, India, 27- 28 Jan. 2016
2015
C3NET - the Climate | Culture | Catastrophe Network, Mini-Symposium "Environmental Humanities"
Aarhus University, Denmark, 30 Nov. 2015
4S (Society for Social Studies of Science) Annual Meeting
Denver, Colorado, USA, 11–14 Nov. 2015
"Mathematization and Computation in Philosophy and History of Science"
Meeting of the Danish National Committee for the History and Philosophy of Science, University of Copenhagen, 23 Oct. 2015
Tensions of Europe conference 2015 «Technology and Environment»
Stockholm, Sweden, 3–6 Sept. 2015
ICOHTEC (International Committee for the History of Technology) Symposium 2015 "History of High-Technologies and Their Socio-Cultural Contexts"
Tel Aviv, Israel, 16–21 Aug. 2015
IUGG (International Union of Geodesy and Geophysics) General Assembly 2015
Prague, Czech Republic, 22 June–2 July 2015
"Dealing with Climate Change: Calculus & Catastrophe in the Age of Simulation"
Conference organised by MECS, Leuphana Universität Lüneburg, Germany, 25–26 June 2015
SPSP (Society for Philosophy of Science in Practice) Fifth Biennial Conference
Aarhus University, 24–26 June 2015
"Assessing the Climate via Models. Prediction, Understanding, and Computer Simulation"
Workshop at University of Bielefeld, Germany, 8–9 June 2015
ASEH (American Society for Environmental History) conference 2015
Washington, DC, USA, 18–22 March 2015
"UK Climatology 1960–1985 and the Emergence of Climate Modelling"
Inter-disciplinary workshop, King's College London, UK, 8–9 Jan. 2015
2014
"Climate in meteorology, meteorology in climate studies"
Workshop organised by the History of Meteorology Project at the University of Bergen, Norway, 20–21 Nov. 2014
"Confidence, Credibility and Authority in Climate Sciences and Politics"
International conference organised by the Centre Alexandre Koyré Paris, France, 20–21 Nov. 2014
"Mistakes, Ignorance, Contingency and Error in Science and Technology"
International conference organised by the Technische Universität Munich, Fürstenfeldbruck, Germany, 2–4 Oct. 2014
ESHS International Conference
University of Lisbon, Portugal, 3–7 Sept. 2014
"Climate and Culture Workshop"
Rachel Carson Center Munich, Germany, 2 July 2014
Lunchtime Colloquium
Rachel Carson Center Munich, Germany, 3 July 2014
Watch podcast here.
"Changing Climate Change Communication: A Conference on the Interactions Between Culture, Society and Language in the Context of Global Warming"
VU University Amsterdam, Netherlands. 21–22 June 2014