Klimaforandringer bør handle om samfundsændringer og ikke klimakriser!
Omtale af Nils Randlev Hundebøls ph.d.-afhandling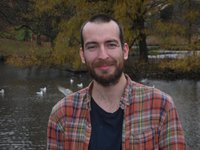 Nils Randlev Hundebøl har undersøgt, hvordan forskere ved hhv. et offentligt atmosfæreforskningscenter og et miljøforskningsinstitut relateret til el-industrien engagerede sig i klimaspørgsmål. Disse forskere søgte på forskellig vis og med forskellig succes at understøtte udviklingen af klima som forskningsfelt og som politisk emne.

Afhandlingens analyse af diversiteten indenfor klimaforskning giver indsigt i alsidigheden af klimaproblemstillingen og rejser spørgsmål om hvorvidt den herskende strategi for rådgivning i gennem FN's Klimapanel IPCC's globale perspektiv, er den mest fordelagtige.
Læs resume på GSST's hjemmeside.
Forsvaret d. 9. december kl. 14.00 er offentligt.
Afhandlingen ligger til gennemsyn hos Graduate School of Science and Technology/GSST, Ny Munkegade 120, bygning 1521, lokale 112, 8000 Aarhus C.